PP-ANE Douglas DC-3C (c/n 34299)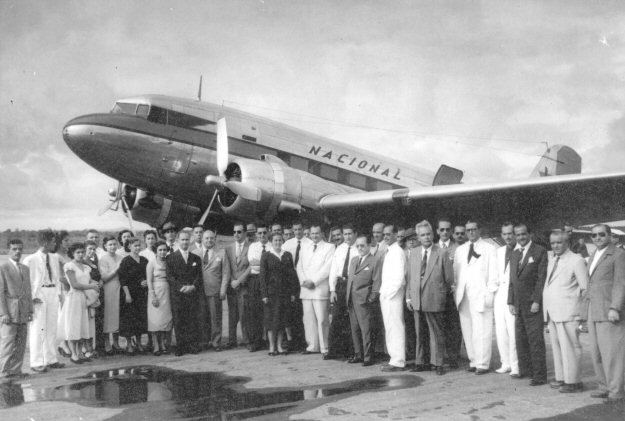 Transportes Aereos Nacional Ltda was founded in 1946 by two pilots, Hilton Machado and
Manuel J. Antones. The running of the airline was basically left to Claudio Hoelck who would
later go on to play an influential part in Brazilian airline management for the next thirty years.
Commencing with two DC-3s, Nacional was established in Belo Horizonte and provided services
to Rio, Salvador and Cuiaba. It would eventually go on the operate no fewer than 30 DC-3s at
one time or another, mostly added to the asset register through acquisitions. In 1948 Nacional
formed a consortium agreement with Viacao Aera Brasil, S.A.(VIABRAS) intended to eliminate
route duplication. During the next decade expansionist Nacional would not only absorb Viacao,
but would go on to purchase Organizacao Mineira de Transportes Aereos (OMTA), Central
Aerea, Ltda., VASD (Santos Dumont), Cia Itau de Transportes Aereos (Itau) and Transportes
Aereos Salvador (TAS). This gave it a huge route network serving some 74 cities in Brazil
operating over 12,000 unduplicated route miles, In August 1956 the REAL consortium secured
85% of Nacional's shares and it was ostensibly acquired by that airline. The rare shot above
is from a print taken by an ex-Nacional cabin attendant, Mrs. Izolda Baez, and shown here via
the Carlos Ari César Germano da Silva collection. The 'E' on the nose identitfies the DC-3 as
PP-ANE. .

It was later

sold to the Brasilian Air Force as FAB2080; and in 1979 was sold to
Oklahoma Aircraft Sales as N9049Y.