OB-R-248 Douglas DC-4 (c/n 10285)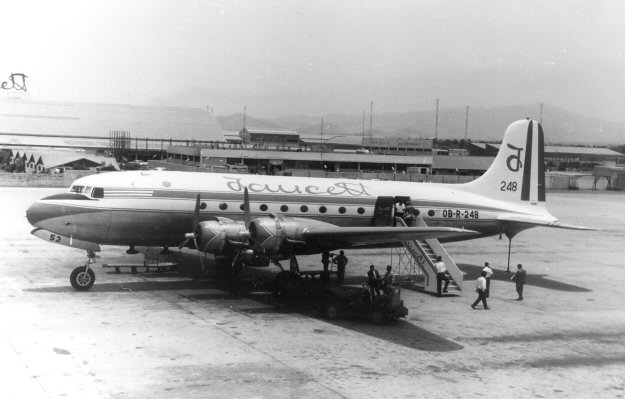 When I used to write to the airlines back in the 1940s and 1950s for photographs of their
aircraft, Faucett would never reply. Therefore, whilst preparing the book "Airlines and
'Airliners of Yesteryear" (which I never did get published) in order to get at least a represent-
ative airliner for the largest carrier in Peru, I had to appeal to Jennifer Gradidge for help. The
above image, taken originally by Peter R. Keating, was the result. Anyway, this DC-4 was
one of a half dozen or so flown by Faucett. It was purchased from FAMA in the Argentine
in 1950 where it had been registered LV-ABO. It became OB-PBC-248 upon reaching
Peru. As indicated in the narrative under OB-BBW-328, the letters were dropped soon
afterward. After flying for Faucett for several years it was placed into storage in the 1970s,
but was later sold to the large Bolivian freight carrier Frigorifico Reyes in 1981, becoming
CP-1653. It was damaged beyond repair in a take off accident at La Paz in September
1988.