OA-BBP Stinson-Faucett F-19 (SM-8B) (c/n 7)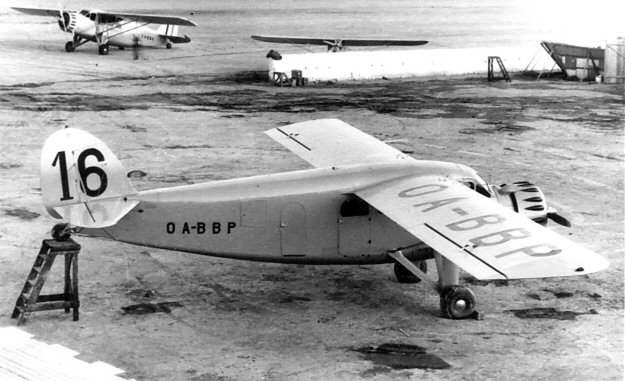 Compania de Aviacion Faucett began operations as long ago as 1928 with a route from Lima to
Chicloyo. The carrier is still operating today. It was founded by an American, Elmer Faucett
using two Stinson SM-8B Detroiter aircraft. Faucett wasn't entirely happy with the performance
of' the factory built Stinsons, but liked their ruggedness nevertheless. By judicious tinkering he was
able raise the cruising speed of his No. 5 aircraft by some 30 or so knots. He then applied for,
and was granted, a license to build a variation of a theme at his plant in Lima. This was born the
indigenous F-19, which was somewhat larger than the original Detroiter. Some thirty of them were
produced. No small means in that day and age, and under those conditions.


A note on Peruvian civil registration markings

:

Up until about 1950 the civil coding was OA-
followed by three letters, in the normal world accepted fashion, starting, presumably at -AAA
and going forward.. In 1964 the country code was changed to OB- and the system modified
to allow for a three letter and three number format. The number was something like a Certificate
of Registration number. Somewhat later, further re-registration took place and OA-BBP became
OB-PAA-104 at that time. Finally, after about 1964 the letters were dropped and an 'R' subs-
tituted, giving a rego like this: OB-R-104 (although in truth, OB-PAA-104 itself had been written
off by that time).