NM16 Lockheed 10-C Electra (c/n 1005)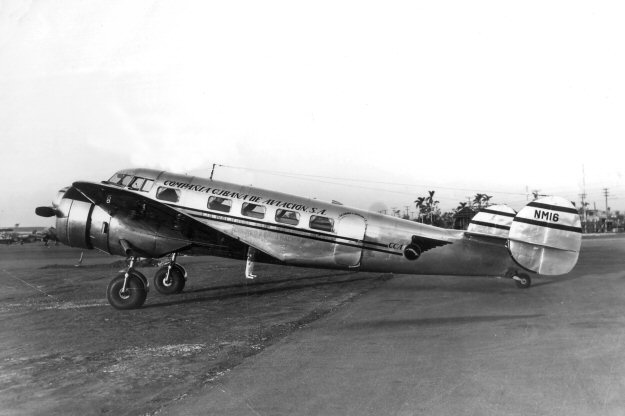 Compania Nacional Cubana de Aviacion Curtiss S.A. was formed as a subsidiary of the
North American Aviation conglomerate in 1929. When the Curtiss-Keys-North American
enterprise got into financial difficulties in 1932, Juan Trippe, president of Pan American
swooped in and purchased the fledgling airline. At that time the word "Curtiss" was drop-
ped from the title. Naturally enough the early equipment comprised a single Curtiss Robin
and a Curtiss Thrush. Ford Trimotors were acquired in 1932. These were replaced in 1934
with five ex PanAm Lockheed Electras (hence they were model 10-Cs). The print seen
above was sent to me by Cubana in 1950. NM16 was formerly NC14258. It had just
been repainted when this photo was taken. Underneath the fuselage cheat line the old C.N.C.A.
titles can be made out. The photo below, from the Stanislav Dudek collection, predates the
one above and shows the L-10 at Havana with just the C.N.C.A. titling on the fuselage.
Since all the aircraft in Cuba were US owned at the time, the pre war Cuban nationality letters
were NM. This aircraft was originally assigned NM11 and bore this registration for a short
while before being re-registered NM16. It became CU-T-11 when the nationality markings
were changed in 1945..