N17N (YV-X-ERC) Canadian Car and Foundry (Burnelli) CBY-3 Loadmaster (c/n 1)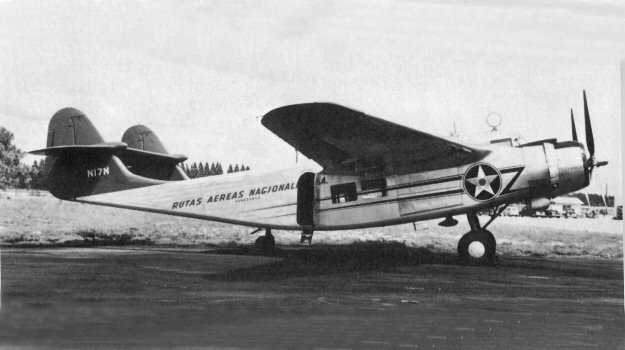 This interesting aircraft was reputed have carried the experimental registration YV-X-ERC
although I have never seen an image of it bearing that registration. It was, however, operated
for a while by RUTAS. In the early 1960s, RANSA, which was by then more or less on its
last legs, acquired five old Boeing Stratocruisers to boost its freight capacity and at the same
time also leased the one and only Cancargo CBY-3. This had been built in Canada under
the direction of the designer, Vincent J. Burnelli. It employed an unusual aerofoil-section fuselage
which, by providing approximately fifty percent of the lift, was capable of taking on large concen-
trated loads. The photograph below, taken at Teterboro Airport in New Jersey prior to its
deployment to Venezuela, shows this arrangement in more detail. RANSA abruptly ended all
operations in 1964. As for the Burnelli CBY-3, well, it was acquired by the New England Air
Museum and moved to Bradley Field, Connecticut. Unfortunately it was never restored (despite
their avowed declaration to do so) and sits rotting outside to this day. What a shame for such a
unique piece of aeronautical engineering.