LV-AHO de Havilland D.H.106 Comet 4 (c/n 6410)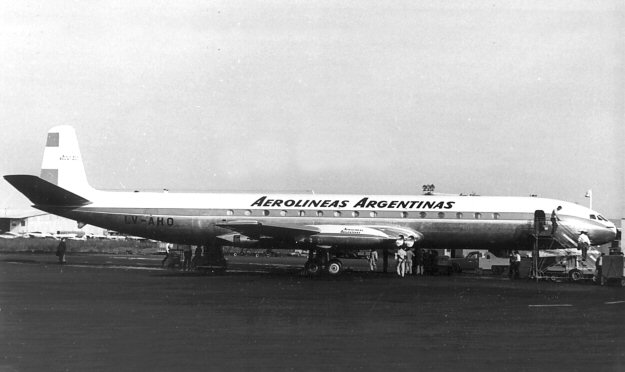 Aerolineas Argentinas took delivery of its first Comet 4 on 2 March 1959. It was the first airline
to introduce commercial jet air service in South America and inaugurated its Comet route from
Buenos Aires to Santiago on 16 April 1959. Shortly afterward the Comets were operated on
the European routes from B.A. to Rome, Frankfort, Paris and London. J.M.G. Gradidge took
the above shot at London Airport in 1959. Of the six Comet 4s operated by Argentinas, three
were lost in crashes. The other three were flown for over a decade, however, and were eventually
sold to Dan Air of London where they continued to provide excellent service, being finally scrapped
in the mid 1970s. LV-AHO was written off on 20 Feb 1960 in a training accident at Buenos
Aires'.Ezeiza-Ministro Pistarin Airport The aircraft landed heavily whereupon the main gear was
forced up through the wings. The Comet bounced and touched down several hundred yards further
on. The resultant fire destroyed the machine, although the crew of six managed to escape. Expensive
training session.