LV-AGG Douglas DC-4 (c/n 10333)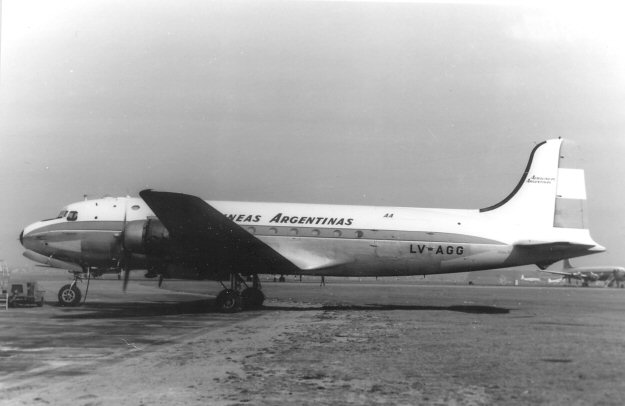 Another of Peter Keating's images, courtesy of Jennifer Gradidge. LV-AGG was built in 1944 as
a C-54A-10-DC (42-72228). It was converted by Douglas to DC-4 standard after WW II and
sold to Santa Fe Skyways (

"Sky Chief Pueblo"

) as N90683. It went to FAMA in 1948 as
LV-AGG and was then absorbed into the Aerolineas Argentinas fleet when that carrier was formed
in May of 1949. It was given the name

"Benjamin Matienzo".

This was the machine involved on
28 September 1966 when nineteen Argentineans hijacked the aircraft which was on a local flight
from B.A. to Rio Gallegos, and demanded to be flown to the Falkland Islands to stage a symbolic
invasion. They didn't do any better than the real one some sixteen years later. On this occasion
the DC-4 landed on the Port Stanley Racecourse and was soon hustled back to Buenos Aires.
It finished its life with SATCO in Peru as OB-1279 and was scrapped at Pucallpa in the 1990s.