LV-AFV Avro 685 York C.1 (c/n 1354)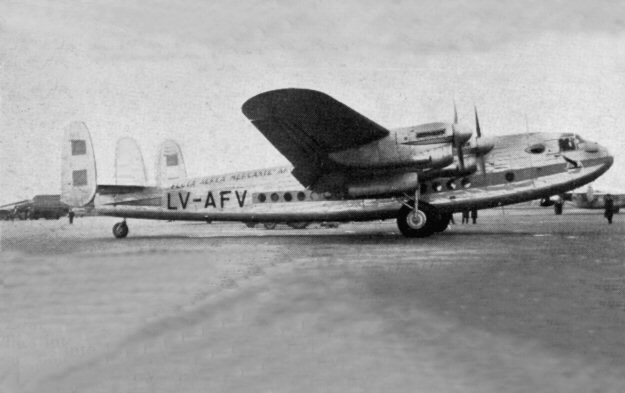 This scratchy old image came from a FAMA publication of 1947 vintage. The York was
obviously ex-RAF, but its prior identity is unknown (at least by this scribe). The Yorks
operated (incredibly) on the long haul from London to Buenos Aires. A once a week
schedule was maintained leaving London at 11.00 hrs on Friday and staggering into B.A.
14.30 hrs on Monday. Intermediate stops were made in Paris, Lisbon (overnight), Dakar,
Natal (Brazil, overnight), and Rio de Janeiro. In 1950 LV-AFV was repatriated back to
the U.K. and wound up on the British Civil Aircraft register as G-AMGL. It was written
off near Hamburg, Germany on 11 March 1952 whilst in service with Air Charter Ltd. All
4 engines failed on final approach due to fuel exhaustion. The wheels-up forced landing
resulted in the aircraft being a complete write off.