HK-136 Douglas DC-4 (c/n 10407)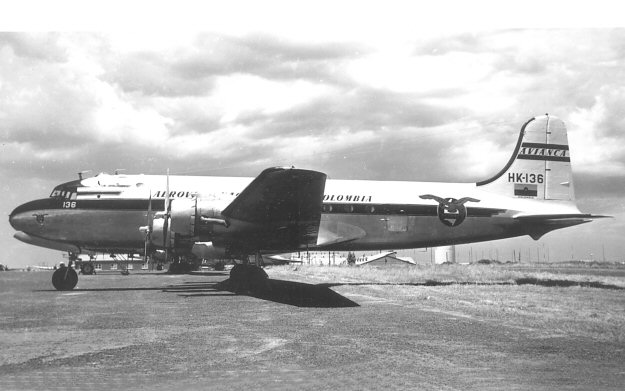 Aerovias Nacionales de Columbia S.A. was formed in 1940 as a result of the merger of three airlines:
the German run SCADTA, Servicio Aereo Colombiano and Aerovias Ramales Colombianas. Despite
the fact that AVIANCA wound up operating more than 30 DC-3s in the 1940s and 50s I do not have
a decent photograph of any one of them. When the first DC-4s were acquired in 1946 the airline
commenced international services, primarily to Miami. My shot was taken at a very undeveloped
Idlewild (JFK) in the late 1940s. c/n 10407 was the 28th conversion by Douglas after WW II of
C-54s (in this case C-54A-15-DC 42-73202) to DC-4 standard. It was originally Pan American's


"Clipper Viking"

(NC88929). It was withdrawn from use following a forced landing in 1981 and
placed on display on a pedestal in the Parque Jaine Duque Briceno north of Bogota. George Evans
took a shot of it in 1987 (below). Looks like it had a radar nose modifiation at some point in its
career.