CX-AQO Vickers 769 Viscount (c/n 322)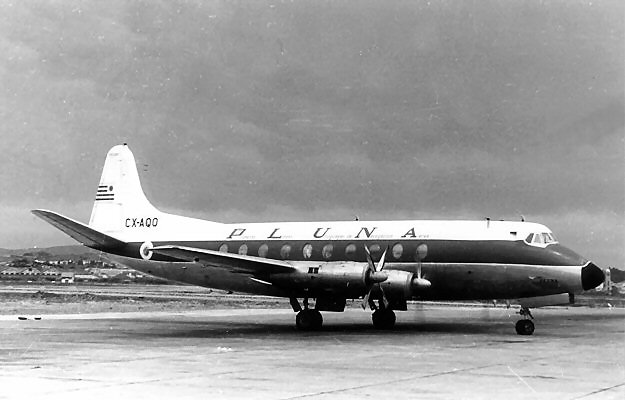 Primeras Lineas Uruguayas de Navegacion Aerea (roughly translated - the First Airline of Uruguay)
was founded in 1935 by a group of Uruguayan financiers led by importers Alberto and Jorge Marquez
Vaeza and backed by some British investors. Its first service was flown on 20 November 1936 on a
route from Montevideo to the far north of the country on the Brazilian frontier, terminating at Artigas
and Rivera. Two D.H.90 Dragonflies were used. Originally a private company, it received government
subsidies before the war. However, a change of government in 1943 saw the end of these subsidies
and services were suspended until after WW II (1945). Since then he government gradually increased
its holding so that by 1951 it was a totally nationalized enterprise. In 1958, to replace its DC-3s, PLUNA
ordered three Viscounts new from Vickers. The above shot of the second one was taken in the UK
before delivery, and is courtesy of the Jennifer Gradidge collection By the 1990s, financial difficulties
saw the airline become almost a subsidiary of Varig, albeit still flying under the PLUNA name, although
by 2006 the Uruguayan Government had repurchased 98% of the stock.
.