CC-CCO
Aerospatiale SE.210 Caravelle (c/n 140)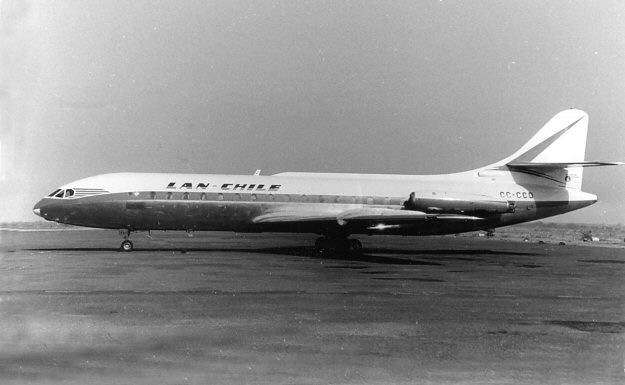 Although alphabetically first, this Caravelle is actually the last type to be displayed in my collection
of LAN Chile airliners. This image was acquired from the vast collection of Jennifer Gradidge for
my still-born publication "Airlines and Airliners of Yesteryear", since I wanted to cover types oper-
ating through the mid-1960s. Linea Aerea Nacional was formed in 1932 as a pseudo government
agency responsible for all internal flights within Chile. Having said that, Pan American Grace Airlines
(PANAGRA) held almost unlimited rights as to who could fry into and out of the country (In Latin
America in those days commercial enterprises had as much power as governments - maybe more).
LAN's first foreign routes were flown with Lockheed Lodestars to Buenos Aires and Montevideo.
Three Caravelles were delivered in 1964 and were initially used on the four times weekly Santiago-
Lima-Guayaquil-Panama-Miami run, with an additional technical fuel stop in Antofagasta. These
services would normally originate in Montevideo or B.A. and occasionally flew Montevideo-Santiago
non-stop. CC-CCO was sold to Aerotal as HK-1778 in 1975. It was written off in a landing
accident at Bogota in July of 1979.