CC-CAT Curtiss C-46 (c/n 33236)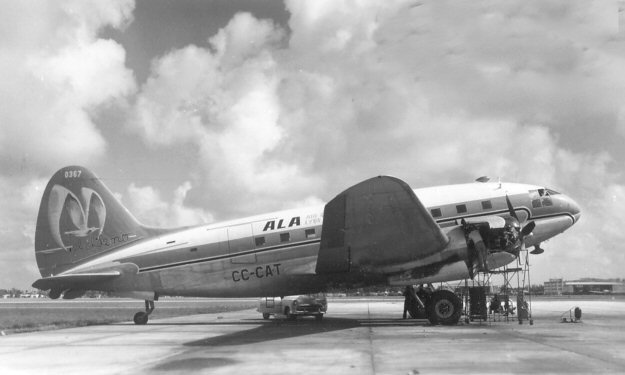 Sociedad de Transportes Aeros, Ltda (ALA) was formed in 1954 by the merger of two small
carriers: Lyon Air and Air Chile. Its backers were a large nitrate producing company of north
-ern Chile. The airline offered cut rate fares from Santiago to Panama (via Guayaquil) and on
to Havana, Cuba. In addition to C-46s it also flew a Consolidated B-24 Liberator Transport.
As business grew, Lockheed Constellations were leased from Cubana CC-CAT was one of
the C-46s picked up with the acquisition of Lyon Air. They had acquired it from Peru where it
had flown as OB-OAB-244. This aircraft was originally a USAAF C-46D-10-CU with serial
44-77840. ALA was taken over by LADECO in 1957. The C-46 remained in Chile and was
scrapped in 1982.