XT-T-06 Douglas DC-4 (c/n 10510)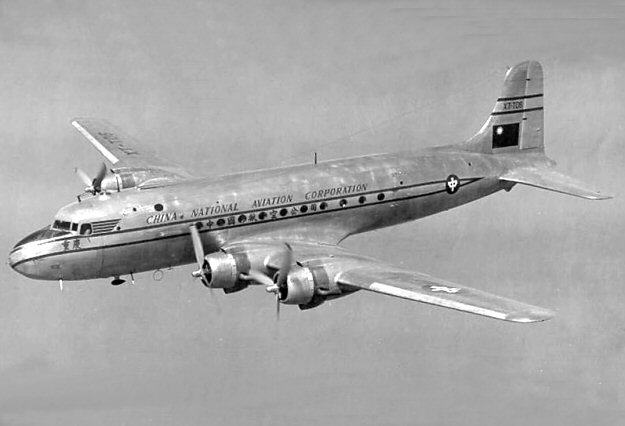 China National Aviation Corporation was founded as long ago as 1930, in competition with
the German controlled Eurasia. Basically the latter company flew inland routes and CNAC
flew coastal runs from Shanghai to Hong Hong in the south and to Tientsin in the north. In
1933 the 45% American interest was bought out by Pan American. Pan Am's influence can
be seen in the livery of this post WW II C-54B-1-DC, delivered to the airline in 1946 as a fully
converted DC-4. Just why CNAC aircraft had the non standard XT-T- series of regos I am
not sure. The series was only used for a short while in 1946, and XT-T-06 was soon changed
to XT-105 (why not 106?). It was one of the aircraft crowded onto Kai Tek Airport, Hong
Kong in late 1949 when the Communists overran the mainland, and wound up with the CAT
fleet as N8346C. CNAC's logo, which has been resurrected by today's China National Airways,
is the Chinese word for "Middle" or possibly "Central". Hence " Middle Kingdom Airways" maybe?
(My wife couldn't elaborate on just why they chose that symbol). Later in its career XT-105 was
purchased by US non-sked California Eastern Airlines who registered it N4837V. This DC-4
crashed in 1960 at Laguna de Huana-Coasta, Bolivia, while flying as CP-609 for Lloyd Aereo
Bolivano.