XT-606 Convair 240-14 (c/n 129)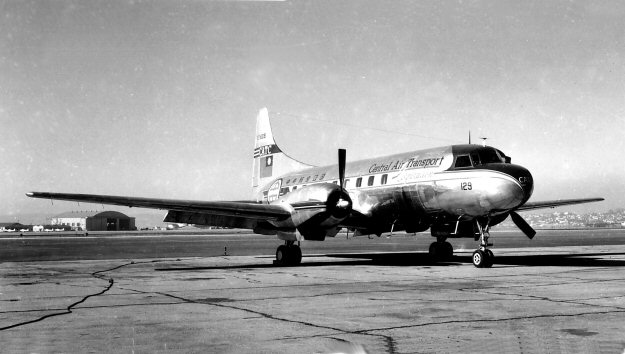 Since I have no images of any ChiCom airliners, I will group all Nationalist Chinese registered
aircraft (both mainland and Taiwan) under this common entry for the Republic of China.
Central Air Transport Corporation was formed in 1943 to replace the old German controlled
Eurasia company. Surplus C-47s were initially acquired in 1946 and in 1949 six Convairliners
were ordered new from the manufacturer. This shot of the fourth to be delivered was taken at
San Diego in 1949. Based in Shanghai, CATC had routes to many major cities within China.
Upon the fall of Nationalist China to the Communists at the end of 1949, the Convairs passed to
the CIA-controlled Civil Air Transport (CAT). XT-606, like several other former CATC
Convairs was later operated by Mohawk Airlines for many years. This one as N1016C.
In 1966 it repurchased from Japan Domestic Airlines by its manufacturer, General Dynamics,
re-registered N24029, and sold to Houston Aviation Products. It was finally withdrawn from
service in Houston in 1969.