VT-CZT Douglas DC-4 (c/n 10419)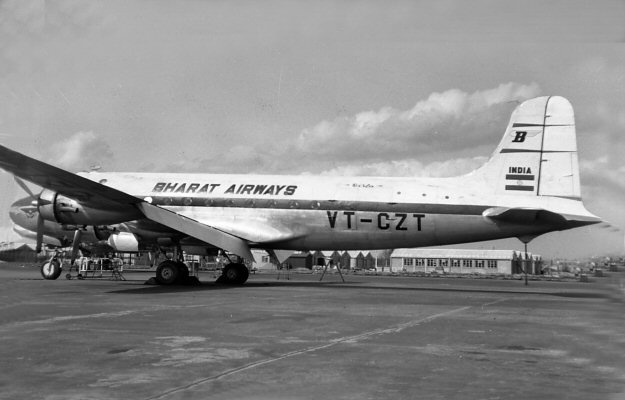 Bharat Airways was founded on 11 August 1945, which is kind of surprising, inasmuch as VJ-day
(Victory over Japan) wasn't until 15 August of that year. I guess it was all over by then bar the
shouting, and hence the Birla Group who owned the airline, foresaw the need to get in on the ground
floor of what would obviously be a dire need in post-war India, i.e. to provide for extensive internal
travel within the sub-continent. Initially its routes operated between Calcutta and Delhi with inter-
mediate stops using DC-3s. However, in 1949 services opened to Bangkok, extended later to
Singapore and Djakarta. This was the only Indian overseas trunk route not operated by Air India
International. A fleet of three DC-4s was acquired, one of which is seen above at Delhi in 1950.
VT-CZT was a former C-54A-15-DC which was acquired from Philippine Airlines where it had
been registered PI-C104. It was unfortunatelt destroyed in a disastrous hangar fire at Calcutta's
Dum Dum Airport on 3 May 1962, by which time it was owned by Indian Airlines Corporation.