VT-COU Douglas DC-3 (c/n 13570)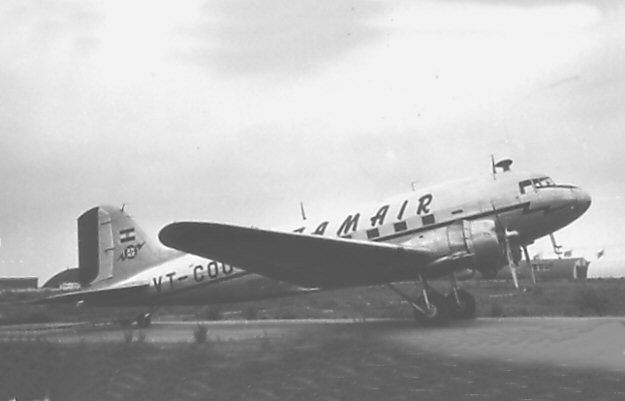 Jamair was formed in 1946 by James B Muff, the former Chief Engineer for CNAC and Eddie Quinn
a former CBI 'hump' pilot and radio operator. The enterprise was funded by Maharajah Jam Sahib
Nawanagar of Jamnagar. It was based in Calcutta, and operated contract supply missions over the
NE frontier and into Assam. . It was one of the few air carriers not merged into the nationalized
Indian Airlines Corporation. It operated until 1977 when Eddie Quinn passed away, whereupon
operations ceased. Asian aviation historian Maurice Wickstead, from whose collection the above
image comes, advises that some ten DC-3s were used at one time or another. VH-COU was a
former C-47A-25-DK Skytrain, (originally 43-93636) Lend-Leased to the RAF as Dakota III
KG703. It was released in October 1947 and sold to Jamair in October 1947. Its ultimate fate
is unknown.