VT-AUR Douglas DC-3 (c/n 13686)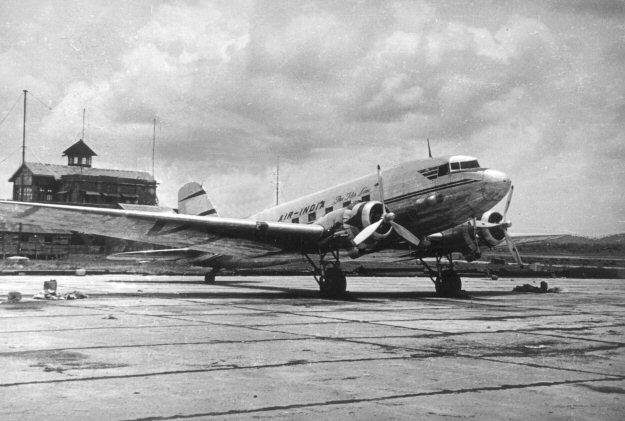 I received this horrible grainy print from Air India in 1949. The last letter of the rego appears
to be an "R" on the original print. Since it is an early conversion, and shows Air-India "The
Tata Line" on the cabin titling, I am assuming that it is -AUR. Both VT-ATR and VT-AVR
were also DC3s but were owned (originally) by Indian National Airways and Airwork (India)
Ltd. respectively. If some expert on Indian Civil Aviation (and there don't appear to be any)
can dispel this notion, I would be more than happy to hear from them. Anyway, Tata Air Lines
had renamed itself Air-India in 1946 and operated until 1953 when it became a "Line" under
the newly formed (and nationalized) Indian Airlines Corporation. Eight former independent
companies were merged to become "Lines" within the new nationalized corporation. They were:
Airways (India) Ltd; Bharat Airways; Himalaya Aviation
Kalinga Air Lines Deccan Airways Air India
Air Services of India Indian National Airways
Following this amalgamation, the "new" Air-India operated a vast fleet of DC-3s. VH-AUD
remained with IAC until the early 1970s when it wound up in the knacker's yard in Bombay.