VR-HFI Vickers 760 Viscount (c/n 186)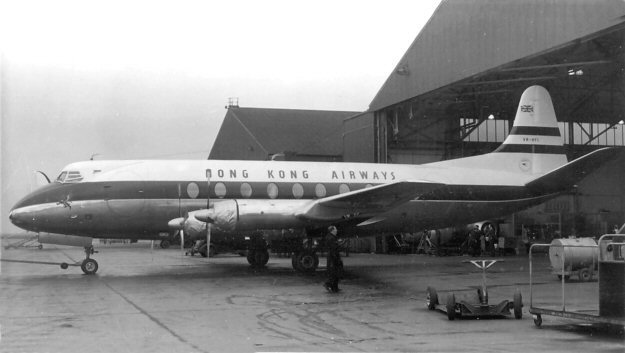 In order to protect its interests in the Far East, BOAC founded Hong Kong Airways in 1947.
A 1949 Hong Kong government decree awarded HKA route rights north of the colony, and
Cathy Pacific those to the south. Hence HKA went head to head with CNAC on flights from
the colony to Canton. They did well, though, and eventually built up to four flights a day. After
the Communist take-over of the mainland HKA's operations were limited to the route to Taiwan.
Two Viscounts were ordered in 1957. Hong Kong Airways was never the force Cathay Pacific
was to become, however, and the airline was merged into the latter carrier on 30 June 1959.
Cathay did not retain the Viscounts and this one went to Malayan Airways as 9M-ALY.