TC-KOP Fairchild F-27 Friendship (c/n 82)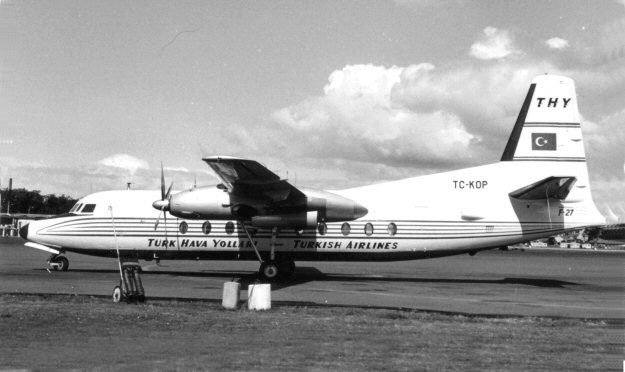 Third of the Fairchild-built F-27s, TC-KOP was delivered across the Atlantic to THY in July 1960.
The two shots seen here are from the Jerry Elmas collection. Photos of this Friendship are relatively
rare in that it was destroyed when it crashed into the Taurus Mountains on approach to Adana Airport,
on 8 March 1962. The F-27 had departed Ankara at 14:20 GMT on a scheduled flight to Adana in
southern Turkey.. En route the pilot reported passing Aksaray and estimated to arrive at Adana at
15:40 GMT. At 15:28 the pilot reported at FL175 and requested a clearance to approach. At
15:40 GMT the flight was cleared to 5000 feet and was asked to report crossing the 8000' and 7000'
marks.. Nothing more was heard from the flight, and it appears that the aircraft had crashed at 6800'
AMSL, some 47nm from the Adana radio range. Reports from Incirlik tower indicate "that the air-
craft should have been on the Adana radio range at 1540 GMT and at flight level 175. In trying to
avoid cumulus cloud, and associated turbulent conditions, the pilot was not able to keep track of his
exact position or to maintain exact altitude." The crew of three and eight passengers were killed.