TC-HIZ de Havilland D.H.114 Heron 2B (c/n 14063)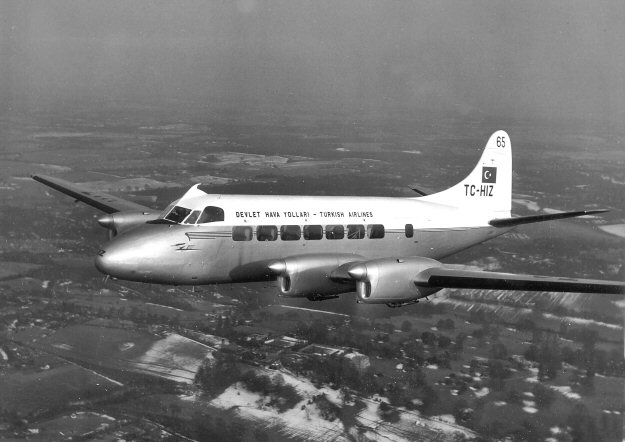 I debated puttting Turkey in the European Section (I know that's where the Turks would like be)
but, since most of the aviation activity occured on the Asian side, that is where I have indexed the
(only two) photos I have of TC- aircraft. Turkish Airlines was established in 1933 as Devlet Hava
Yollari (DHY) by the Ministry of Public Works, with an initial route from Istanbul to Ankara via
Ekisehir. de Havilland aircraft were used extensively (D.H.89A Rapides and D.H.86 Expresses).
After WW II it was renamed Turk Hava Yollari (THY) and in the 1950s the airline again looked
to the Hatfield manufacturer for aircraft for its internal services. Seven Heron 2Bs were ordered.
They served the airline well for a decade (remarkably none were lost, and maybe as a tribute to
their reliability) and in 1966 they were all sold to Aviation Developments Corporation and converted
into Riley Herons. From there they were sold all over the world. TC-HIZ was still flying for Air
/ Americana as late as the 1990s.