PK-REY Douglas DC-3 (c/n 20041)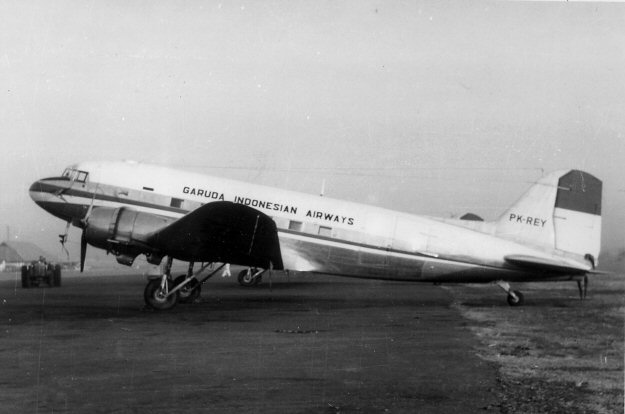 This image is somewhat rare insofar as it illustrates a DC-3 of Garuda registered before the PK-
"Garuda" series was adopted, wherein the middle letter designated the type. This aircraft would
later become PK-GDC. This former C-47A-85-DL (43-15575) was given the serial DT-971
and the ADAT radio callsign VH-REY while it was with the NEI Air Force in the early post-war
period and was attached to No.19 Squadron (RAAF) operating courier services between the NEI
and Brisbane-Archerfield with C-47s and later C-54s. When the NEIAF moved its operations
back to Batavia in 1947, the callsign was changed to PK-REY and the serial changed to a series
commencing at NI-470, but the actual serial of this aircraft has not been positively identified
With Indonesian independence in 1949, this group of Australian courier C-47s were passed to the
newly founded Garuda Indonesian Airways, and PK-REY was registered to them in Dec 1949.
As indicated above it was re-registered into the normal Garuda series in 1956 as PK-GDC. It was
leased by Garuda to Trans Nusantara Airways in 1972, and was was used on a contract for the
Burmah Oil Co carrying oil drilling workers between Timor, Bali and Broome. It ran off the runway
at Broome on 21 January 1974 during a monsoonal rain and was abandoned.
After cosmetic repairs it was used as a Tourist Bureau on the side of the road into town, painted in
an Ansett color scheme, and given the spurious reg VN-BME. Immediately below is a photo from
the Geoff Goodall collection showing it as PK-GDC and with 'Transna' on the nose being salvaged
at Broome. Following that is a shot of it taken by Geoff in January 1979 in its Tourist Bureau role.
Whilst 'BNE' is the airline coding for Broome, the use of the prefix VN is inexplicable. The old
lady later fell into disrepair and was trucked to Perth ostensibly for a planned museum which never
got going. Plans in the 1990s for it to become part of the Western Australian Museum of Aviation
also fell through and the aircraft was auctioned off, becoming, incredibly, a "garden ornament" in
Armadale, W.A. Peter Hanbury sends me the shot at the foot of the page showing it as it now
stands in his back garden. His children have had birthday parties, etc., in it! Peter also owns the
Pawnee VH-BTY.