PK-LEG Grumman G-21A Goose (c/n B-119)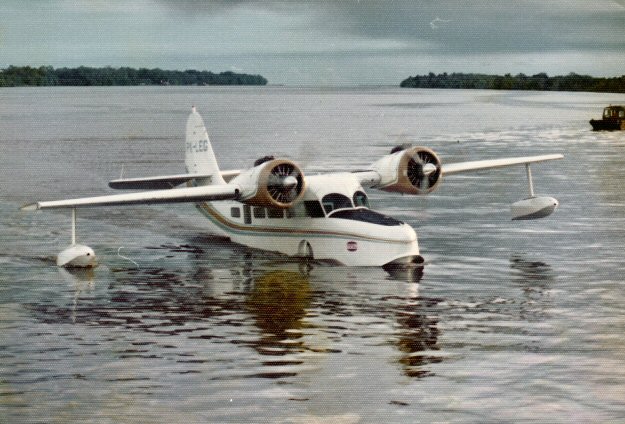 I was quite familiar with this Goose when it was N329. In fact, I flew in it to Catalina a couple of
times in the early 1960s. The above image is courtesy of the Margaret Picard collection, whilst my
photo (below) was taken at Long Beach in 1961. Formerly a US Navy JRF-5 (BuAer 87725) it
went to the United States Coast Guard after WW II as serial 7725. It was civilianized in 1960 for
Avalon Air Transport becoming N329. Many of the Gooses at Long Beach in those days used to
change ownership with lighting rapidity. This one was also on the asset register of Catalina Air Lines
and, in fact, was damaged in a water loop landing on rough water in Avalon Bay on 2 May 1964.
Six years later it struck a boat whilst landing at Avalon and was diverted back to LGB. Shortly after
that Golden West took over Catalina Air Lines and N329 was repainted, briefly, in their livery. It
was sold to Saatas East Indonesia around 1973. On 25 May 1978 it overran the runway at Senipah
Airport, Indonesia, but may have been repaired, since it was not stricken from the PK- register until
1990.