PK-ADB Douglas DC-5 (c/n 428)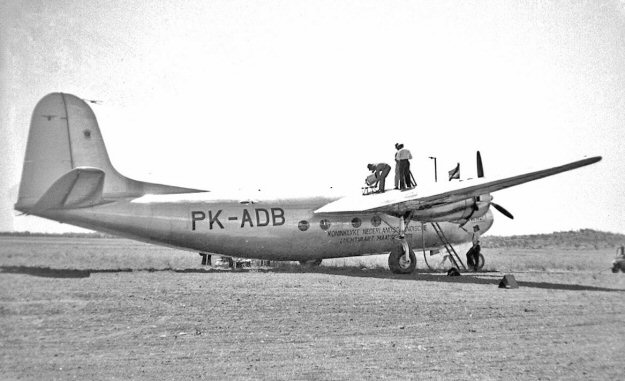 Extremely rare shot from the Ben Dannecker collection of a DC-5 of KNILM at Cloncurry, Qld
on the prewar Batavia-Sydney passenger service. Four DC-5s were in KNILM service at the
outbreak of the war in the Pacific and all four were used for the 1942 evacuation of civilians from
Java to Australia. PK-ADB became radio call sign VHCXA with the Allied Directorate of Air
Transport, and was operated by No.21 Troop Carrier Squadron. It was destroyed on 17 Aug
1942 during a Japanese attack on Wards Strip, Port Moresby. PK-ADA was captured by the
Japanese forces and it is thought that bits and pieces of PK-ADB were cannibalized to make the
former aircraft airworthy and that it was flown to Japan and used until the end of the war.
PK-ADC was used by ADAT with call sign VHCXB and was scrapped at Essendon in 1946.
PK-ADD had call sign VHCXC and became VH-ARD after the war and was scrapped at Haifa,
Israel in 1955.