PI-C5 Douglas DC-3 (c/n 9754)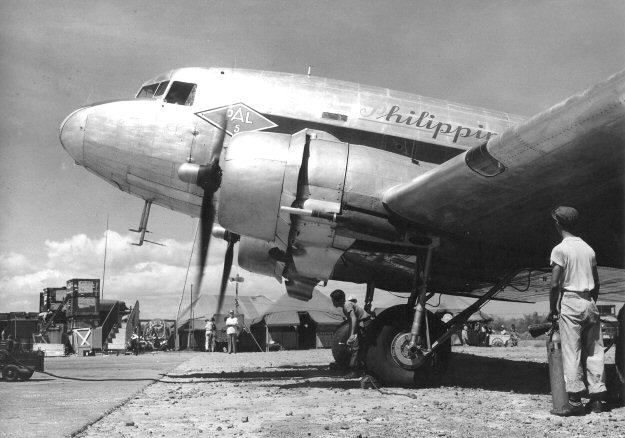 Philippine Airlines began domestic operations within the islands in 1941 with a motley fleet of Beech 18s,
Bellancas and Wacos (registered NPC in those days, of course). The Japanese invasion terminated these
services which were resumed after WW II with surplus C-47s. In those early post-war days, PAL was
receiving competition from Far Eastern Air Transport (no relation to the Taiwan outfit of the same name)
and Commercial Air Lines, inc. In the event, and in the inimitable Philippine political manner, PAL was
granted the charter to become the nation's favored airline and absorbed the other two companies.
PI-C5 seen above at a very undeveloped Nichols Field, Manila in 1946 was one of the first delivered
and was an ex C-47A-35-DL. The nose of it is seen here wearing the initial livery scheme. This aircraft
was lost in a crash on 10 March 1952 when it flew into a house while landing at Lahug, Cebu.