OD-ACZ Avro 685 York C.1 (c/n 1218)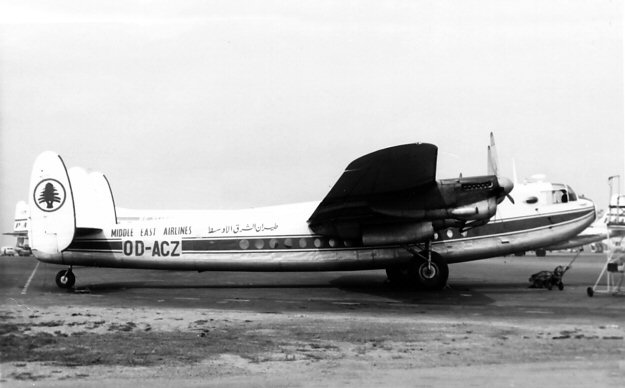 In 1957 Middle East Airlines acquired several (three, I think) Avro Yorks for freight duties.
This one had been around the block. It was built as RAF York C.1 TS793 and was civilianized
in 1946 for BOAC as G-AGNP. It was seconded to South African Airways for a while as
ZS-BRA and was then back in service as WW509 (Berlin Airlift?). Civilianized again, it was
sold to Air Liban as OD-ABT. After a refurbishing (again as G-AGNP) it went to MEAC.
On 15 March 1963 OD-ACZ was carrying out a freight flight from Beirut to Tehran via Kuwait.
On the Kuwait-Tehran leg of the flight several test maneuvers were carried out by a check pilot
who was examining the pilot in command and co-pilot for renewal of their licenses. On leaving
Tehran at 05:30 GMT, the crew did not report when 25 miles out as requested, and it appeared
that the aircraft had crashed 16 miles W of the airport. Investigation indicated that the no. 4
engine had been powered down at the time and that, whilst in this condition, the no.3 engine
developed problems. In view of the fact that the fully loaded aircraft was flying at a low altitude
after taking off from Mehrabad Airport which has an elevation of 3900 feet, it is evident that at
the aircraft would not have had sufficient altitude for the pilot to take effective recovery action and
so avoid a crash resulting from the above mentioned loss-of-power conditions. On the image
below I cannot positively ascertain the identity of this machine so I will append it to OD-ACZ.
It does, however, illustrate the "Cedars of Lebanon" nose treatment quite clearly.