OD-ACW Vickers 754 Viscount (c/n 242)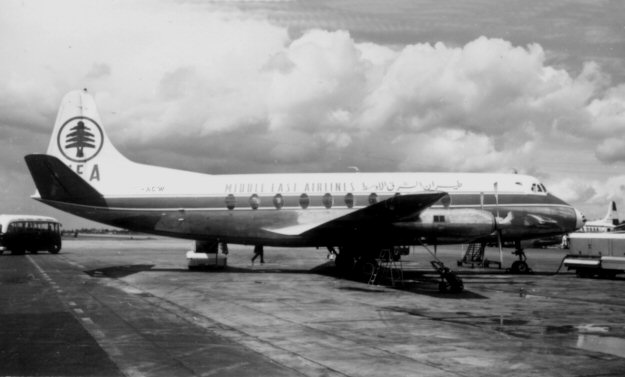 When Jennifer Gradidge took this shot at London Airport in 1957 the juxtaposition of the sun and
lighting almost obliterated the rego. At least the "CW" part can be discerned. After periods of lease
to Kuwait Airlines this was one of the Viscounts which wound up with Aloha Airlines in 1965, this
one becoming the second N7410. That in itself was a rather interesting re-allotment of a registration,
and one which I, personally, would have stayed away from, inasmuch as the first N7410 (A Capital
Viscount) sustained a mid-air collision with a Maryland Air National Guard Lockheed T-33 whose
pilot evidently wasn't looking where he was going!

This

N7410 was also destroyed when it lost
brakes and steering whilst taxiing for take-off at Honolulu International on 27 June 1969. It struck
a parked Hawaiian Airlines DC-9-31, N906H, and was written off. It probably didn't do the DC-9
much good, either.