OD-AAB Douglas DC-3 (c/n 20175)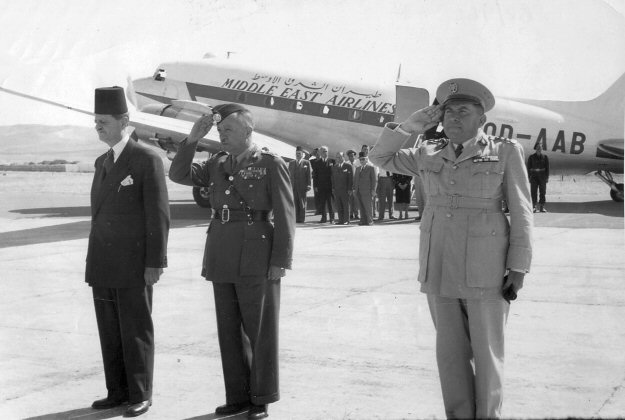 Just who these worthies are was not disclosed in the caption of this photograph. However,
since the shot was taken in Amman, Jordan, and since the DC-3 was registered OD- versus
LR-, I would hazard a guess that the occassion was a very early state visit to the then new
King of the Hashemite Kingdom of Jordan, Hussein 1. If any viewer can identity these officers
I would be happy to so anotate. OD-AAB was previously LR-AAB. Lebaanon changed
its prefix in 1952. I am not sure what prompted this channge, since the country had been in-
dependent since 1943 (it was a French Mandate between the wars) and I know of no significant
historical event which separates the era before and after the early 1950s. Anyway, OD-AAB
was an ex C-47A-90-DL (43-15709). After MEA disposed of it, the aircraft has had an
interesting history, going first to Air Comores as F-OCEN, After service with the Aviation
Militaire Comorienne and the South African Air Force it went to the US and was converted to
a Turbo DC-3-65TP and is, I believe, still active with Baja Air as N145RD.