JZ-PDD Douglas DC-3CS1C3G (c/n 19549)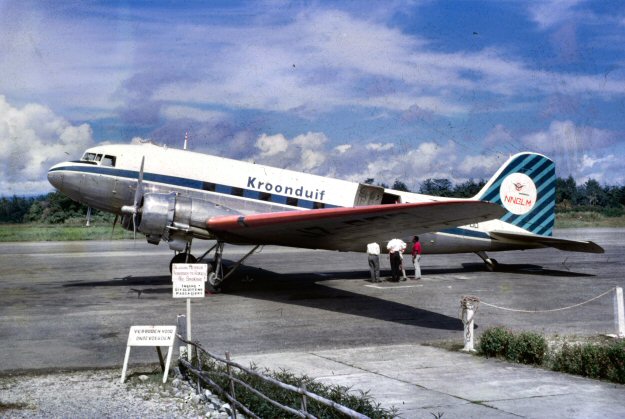 This was formerly KLM's PH-DAM (and PH-TBM before that) An ex C-47A-DL (43-15083), .
it was one of six ex-KLM DC-3s used by De Kroonduif which was a subsidiary of KLM and was
the national carrier of Netherlands New Guinea (present day Western New Guinea, Indonesia).
between 1955 and 1963. The name 'Kroonduif' is the Dutch term for the crowned pigeon indigenous
to New Guinea, which was used as the logo of the airline. The rare shot above is from the Larry Cole
collection and was taken at Sentani, probably in 1962. When Dutch New Guinea was annexed by
Indonesia this aircraft became PK-GDN with Garuda and later PK-NDD with Merpati Nusantara.
Its ultimate fate is unknown.