JA6302 Douglas DC-7C (c/n 45469)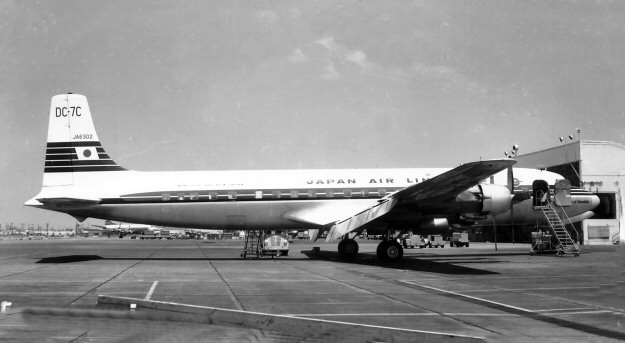 United used to service JAL's DC-7Cs on turnaround at LAX on their polar route to Tokyo in
the 1960s. Above is

"City of Honolulu",

one of the fleet of five, on the maintenance ramp
adjacent to Western's. The JAL DC-7Cs were registered JA6301 to 6306. JA6304 was not
assigned, since the sound of the word for "four" (in both Japanese and Chinese) is the same as
the sound of the word for "death". Similarly, hospitals do not have a fourth floor. This aircraft
was sold to Pan Aero Corporation in 1966 who leased it to Schreiner Airways in Holland where
it became PH-SAO. It was withdrawn from use at Cambridge, UK in 1967 and broken up there
two years later.