HS-SAA Douglas DC-3 (c/n 13726)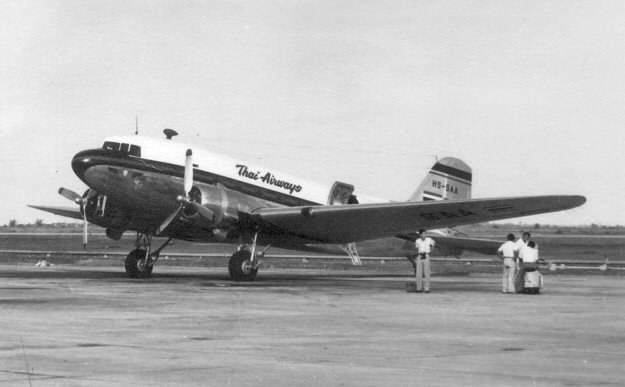 Before Thai Airways International there was Thai Airways, a company founded in 1951 by an
amalgamation of Siamese Airways Company and Pacific Overseas Airlines (Siam). The latter
was a US owned corporation operating domestic flights within Thailand and also from Bangkok
to Hong Kong and Calcutta. In 1959 Thai Airways signed an agreement with SAS which not
only provided its partner with equipment but which led, eventually, to the formation of Thai Inter-
national. HS-SAA was a FEAF RAF Dakota IV (KG725) which was civilianized for Siamese
Airways in 1947. It was inherited by Thai Airways on 1 November 1951 and eventually re-regis-
tered HS-TDA. I observed it languishing at Don Muang Airport, Bangkok (the airport with the
golf course between the parallel runways) in the early 1980s. Presumably it was scrapped soon
after.