HS-POE Douglas DC-4 (c/n 7488)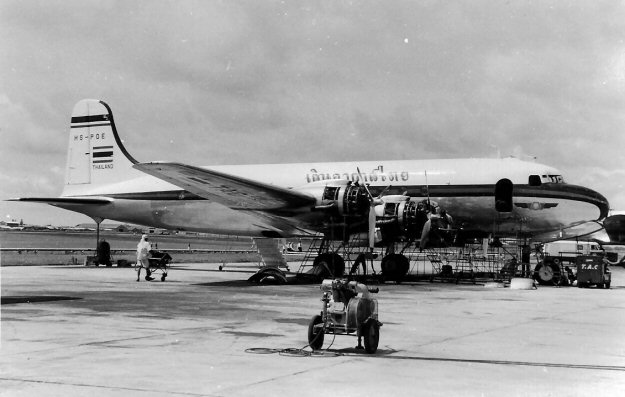 HS-POE was one of two (HS-POA was the other) DC-4s inherited from Pacific Overseas Airlines.
It was later registered HS-TSA. These DC-4s were used on the Hong Kong flights. The above
shot was by the late Peter R. Keating taken at Don Muang in 1951 probably while the DC-4 was
undergoing heavy maintenance having just been taken over by Thai Airways. The poor quality image
below is a from a post card I acquired from Thai in 1952. This DC-4 wound up in South Africa as
ZS-IPR and was then purchased by the Dutch Dakota Association becoming PH-DDY. Parts of it
were used to keep their other DC-4 (ZS-AUA) flying and c/n 7488 is now on static display at Lely-
stad airfield in the Netherlands.