B-1018 Boeing 727-092C (c/n 19175)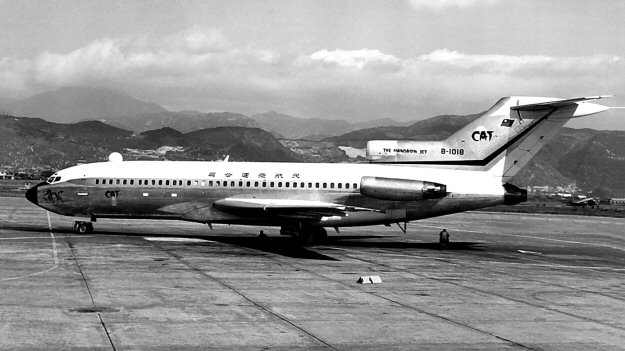 This rare photograph is courtesy of the Vincent Ma collection. It depicts the ill fated Air America
727 N5093 (operating as Southern Air Transport) which was passed to Civil Air Transport in
January of 1968. It was intended to replace the Convair 880 on the

Mandarin Jet

flights. Vincent's
image shows it at the old Chung Shan Airport in Taipei. In the event, its tragic crash resulted in the
complete demise of CAT. The Taiwan Government (or perhaps the CIA itself) decided to close
down the phantom airline and soon afterward China Airlines, the flag carrier for the Republic of
China was born, under completely new management. B-1018 crashed into the mountains at Kinkou,
just south of Taipei on the night of 16 February 1968 with the loss of 21 lives, including several high
ranking R.O.C. officers. Officially, the reason given was pilot error, although scuttlebutt says that
somebody had been tinkering around with the radar system. Efforts by yours truly to visit the crash
site some six years later resulted in my almost getting arrested by the (at that time) very jittery Republic
of China Military Police. Taiwan was, in the early 1970s, under martial law. As many readers will
attest, there are several countries (Greece springs to mind) wherein the concept of interest in civil avia-
tion, particularly "spotting", per se, is not understood at all!