ZS-BOM Bristol 170 Wayfarer (c/n 12739)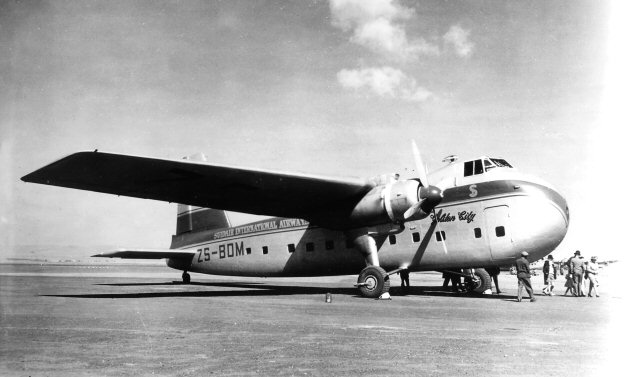 Suidair International Airways was a South African charter airline founded in 1947. It leased
the Wayfarer above, along with another (ZS-BVI) for a short while in 1947 presumably to test
the market in the automobile carrying and general freight trade in the Union The company also
ran a small fleet of DC-3s some of which made the long trek from Johannesburg to Bovingdon,
England. The airline was initiated "before its time", however, and went bankrupt in the late
1940s. The world just offer an aviation oriented enough marketplace in those days to make a
go of it. ZS-BOM returned to the UK as G-AHJG and then went to Shell Oil Company of
Ecuador as HC-SBU in August of 1948. It crashed almost exactly a year later, in Ecuador.