VR-NIL de Havilland D.H.104 Dove (c/n 04127)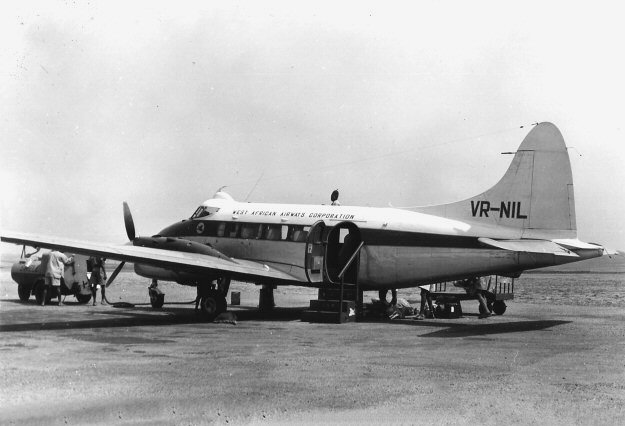 Clearly the delicate Dove was never really a match for the harsh conditions of the "White Man's
Grave" as West Africa used to be known (then for its potential of delivering fatal deadly diseases -
now perhaps for more violent reasons). It was another one of a succession of types tried by WAAC
in the 1950s. Delivered new in 1947, VR-NIL returned to the UK in 1955 as G-AOBZ The image
below depicts, I think,

VR-NAG

(c/n 04049), although I am not sure. On the original print the name
appears to be

"Sir Hubert Stevenson"

Correspondent Sarah Bailey, of Brisbane, Australia advises
that Sir Hubert was a Governor of Sierra Leone in the 1940s. Sarah also provides the shot of VR-NIL
at the foot of the page showing "Father Christmas and his pilot" at Lagos on 23 December 1954. The
pilot was Sarah's father, Derrick W. Cox, who flew for WAAC between 1951 and 1955 and who,
sadly, was killed in the crash of Bristol 170 Wayfarer VR-NAD at Calabar on 5 February 1955. Sarah
was but four years old at the time.