VP-YNC Vickers 748 Viscount (c/n 100)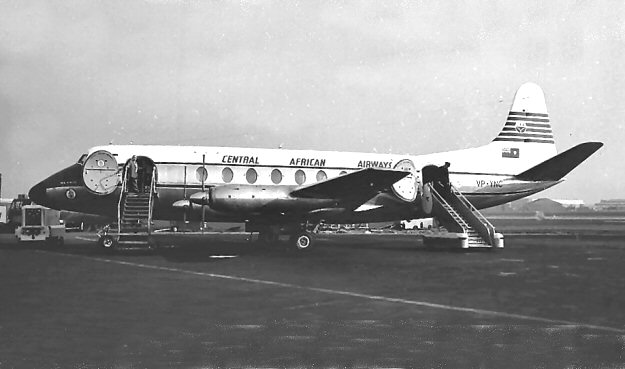 Incredibly (or so it seems in 2009) CAAC began services to London in 1953 using Vickers Vikings
on what was deemed then to be the

'Zambesi Service'

(similar to Qantas'

'Kangaroo Route'

). By
1957 this service was taken over by Viscounts. VP-YNC is seen above at Heathrow in the late
1950s in this shot by Rod Brown. On 1 January 1968 Air Rhodesia was formed out of the old
Central African Airways Corporation and -YNC was repainted, as seen in the shot below from the
John M. Wheatley collection, taken at Bulawayo in the 1970s. By 1980 'Rhodesia' had become a
dirty word in this part of the world and the airline (same management, crews, etc) changed its name
to Air Zimbabwe. In 1983 VP-YNC was officially re-registered Z-YNC (see my caustic comments
under VP-YNA regarding 'independent' countries' rego assignments) although in truth it may never have
been repainted as such, since it was scrapped at Salisbury (oops, sorry, Harare) shortly afterwards.