VP-YIR Vickers 714 Viking 1B (c/n 141)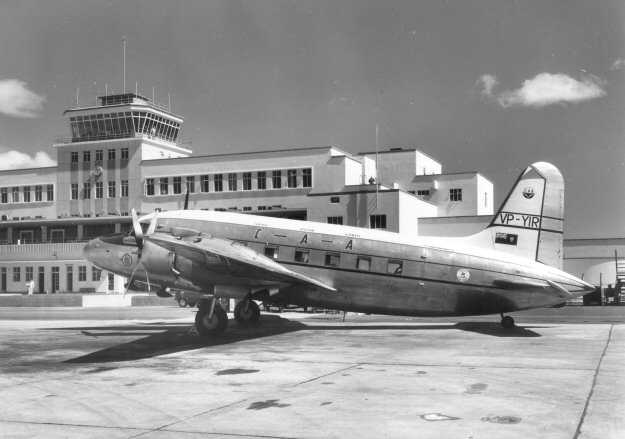 The above quite stunning shot of one of the ex-BEA Vikings came from CAA. It depicts VP-YIR


"Luangwa"

in front of the rather imposing new Salisbury air terminal building in April 1957. The
lower photo was earlier at the old Belvedere Airport and shows the same Viking about to depart
with the DC-3 VP-YKM

"Angoni"

in the background. This Viking was formerly G-AHPH,
although, when acquired by CAA, had been owned by Suidair International as ZS-BSB for a short
time in early 1947. Just why they off-loaded it to CAA almost immediately is not clear. After its
stint with Central African it returned to South Africa in 1950 as ZS-DEP (The Union was one of those
countries, like New Zealand, which did not revert a previously registered aircraft to its former regis-
tration) before being repatriated back to the UK, where, of course, it reverted to G-AHPH,
for Eagle Aviation.