VK-KOJ Canadair C-4 Argonaut (c/n 159)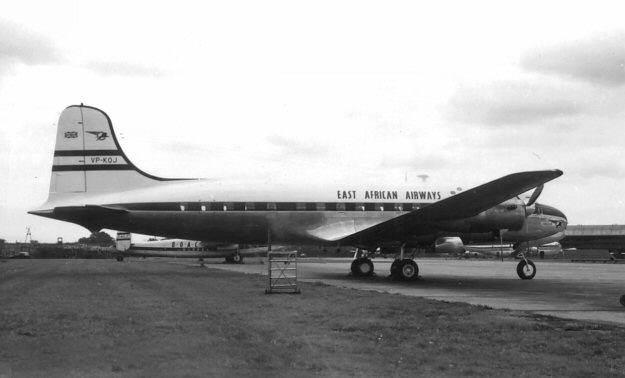 In 1957 East African purchased (somewhat under duress*) five Argonauts from BOAC. One
of them is seen here at London Airport in 1959. Note BOAC York in background. These
Canadairs were operated on flights from London to Nairobi, in addition to local flights from the
Kenyan capital to Entebbe, etc.. This machine was repatriated in 1964 to Air Links, reverting,
of course, to its previous registration of G-ALHM.
* EAAC's management, when looking around to replace its DC-3s had opted for Convair 440s.
However, BOAC, in its role as parent, or elder statesman (or, more importantly, as major share-
holder) had other ides and "convinced" the upstart little African airline to take their worn out
Argonauts. This was not the first time that the heavy handedness of BOAC's management would
lay down the law.