VP-KGK Piper PA-12 Super Cruiser (c/n 12-2312)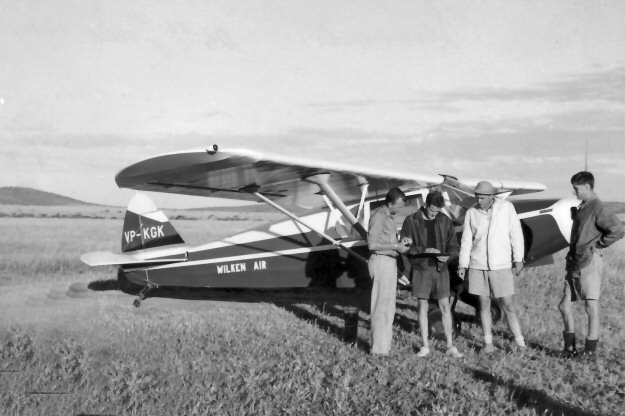 This Super Cruiser was first registered in 1948. It came in from South Africa where it had
been ZS-BPH and ZS-BJY just before it went north. . In March 1960 it was acquired by
Wilken Air Services. The above photo taken on 25 June 1961 at at Serengeti National Park,
shows Dr. Lee Tablot, Miles Turner, Keith Mousley, and Dr. Don Stewart. Janet Mousley
gives the following narrative:


"My father was working for Wilken Air Services at the time and he was hired to help
with a "game count" in the Masai Mara and Serengeti, largely financed by the Kenya
Game Department Fauna Research Section. He flew 77 hours in 14 days on a census
of Widebeest and other plains game over 15,000 square miles. At the same time a RAF
Canberra PR machine covered part of the Serengati. The difference in the counts was
a mere 200,00 wildebeest (1.3 % of the total). A Wilken Tri Pacer was also used,
but clearly the light plane effort was far more economic"
In June 1964 the Super Cruiser (no longer with Wilken) was reregistered 5Y-KGK.