SU-ADL Beech D-18-S (c/n A-55)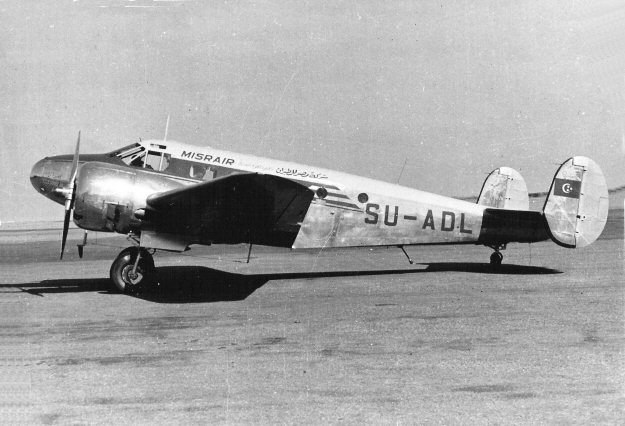 Misr Airwork was formed on 7 June 1932 by Alan Muntz, Chairman of Airwork, Ltd. This firm
was providing aircraft on charter work, and Muntz felt it was time Egypt had its own airline. The
Misr Bank held 85% of the share capital, hence the original airline name of Misr Airwork. Service
began in July 1933 from Cairo to Mersa Matruh, via Alexandria, using D.H. Dragons. When other
services opened up, the three Dragons were augmented with six or so D.H.89A Rapides along with
a D.H.90 Dragonfly and assorted other single engine de Havilland types. . International routes were
established in 1937 to Haifa, Baghdad and Cyprus. When operations started up after WW II the
name of the airline was changed to Misrair. Ten Beechcraft D-18-S machines were acquired.
These were, in fact, purpose built civil aircraft and not, as is often reported in historical narratives,
ex C-45s. SU-ADL seen above in this image from the John Havers collection, was built in 1946
and was one of three originally shipped out from Wichita. The other two were SU-ADK (c/n A-54)
and SU-ADM (c/n A-56). Seven additional D-18s, delivered in 1947/8, were registered in the
SU-ADZ - SU-AEG block.