ET-T-15 Douglas DC-3 (c/n 13483)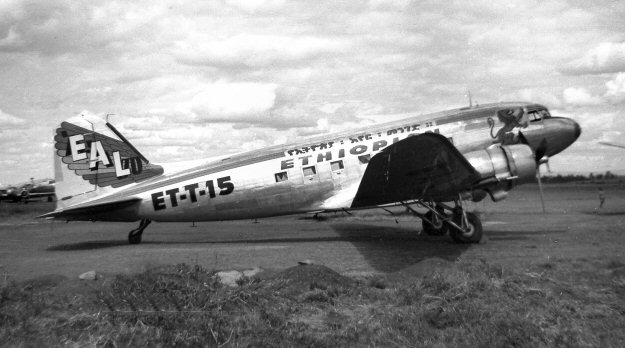 Ethiopian commenced operations on 21 December 1945 with five ex C-47s, one of which is
seen above in this shot by the late Peter R. Keeting taken at Addis Ababa in 1950. The air-
line was supported largely by TWA in the beginning both in the area of technical expertise and
management. .ET-T-15 was a former C-47A-25-DK (42-93558) which had seen duty as a
Dakota IV (KG666) with the RAF. For some reason (cash flow?) it was leased to Swissair in
1951-52 as HB-IRH. Returning to Ethiopia, it was re-registered ET-AAT in the mid 1950s.
On 30 November 1963 the aircraft was being test flown following maintenance work when it
banked hard to port, crashed and was written off. Subsequent inquiries revealed that the
aileron cables had been reversed when they were re-connected. Fortunately the crew escaped
with their lives.