EL-AAB Douglas DC-3CS1C3G (c/n 12054)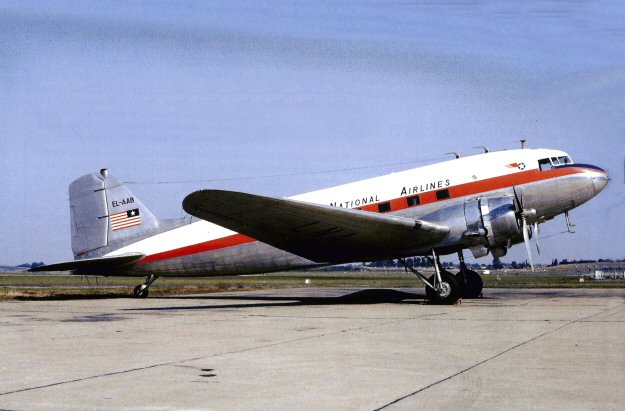 Liberian National Airways was formed in December 1949 with a single D.H.89A Dragon Rapide
and one DC-3. When writing to the airline as an air cadet in 1949-50, I was never able to get
a response to my requests for photos of their aircraft. (The above image is via the Denmark Fly-
museum and was taken at Malmo, Sweden in 1968 by Sven Stridsberg just before the aircraft was
delivered to the African airline). The airline consistently lost money and in 1965 the operation was
taken over by UTA of France. At that time the corporate title was changed to Liberian National
Airlines, as carried on this DC-3. There have actually been two DC-3s registered EL-AAB. This
is the second of them. In January 1974 Liberian National Airlines merged with Ducor Air Transport
to form Air Liberia, which in itself went out of business in 1990. EL-AAB was a former
C-47A-1-DK (42-92272) supplied to the RAF as Dakota 3 FL629. It was civilianized in 1945
for BOAC as G-AGLZ, passing later to BEA . In April 1960 it went to Ghana as 9G-AAE. As
indicated above It was acquired by Liberian National Airlines in 1968. On 19 April 1973 it crashed
on take-off from Robertsfield Airport, Monrovia. There were no casualties but the aircraft was
deemed a write-off.