CF-GKW Beech SC-17R (c/n 120)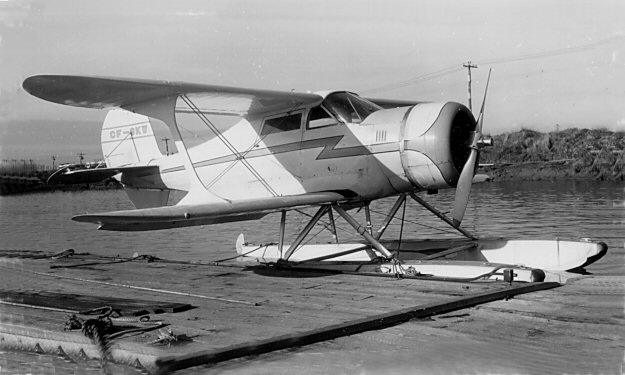 I am indebted to Ron Bell for the history of this Staggerwing. In 1937 Starratt Airways ordered a
Beech18A to be installed on floats. While undergoing float testing by either Beech pilot or Edo, the
aircraft, registered CF-BGX, was wrecked .To keep the customer happy while waiting for the 18A
replacement, (CF-BGY), Beech made a model 17, CF-BIF available at a price Starratt couldn't refuse. CF-BIF then remained in the Starratt fleet from Oct. 13 1937 until the firm was sold to newly created
Canadian Pacific Airlines in 1942. CPA kept the Staggerwing until May 1944 when it was sold to a
C.A.Martin in Fairbanks Alaska. (NC number anyone?). It was then acquired by Russ Baker of Pacific
Western Airlines, and reinstated on the Canadian register as CF-GKW. Sold by PWA, it had several
other owners, during which time Leo Kohn's shot above was taken. Also, at some point in time the orig-
inal Wright engine was replaced by a P&W R-985. -GKW eventually ended up in the possession of Bill
Boucock, a Calgary architect, for rebuild by Neil Davidson of Kimberley B.C. The project is on-going
and Ron indicates that Boucock (who does not have a pilot's licence) tells him he has the original Edo 4000
floats, although whether they will ever be refitted is a matter of conjecture.