CF-CUX Convair 240-3 (c/n 96)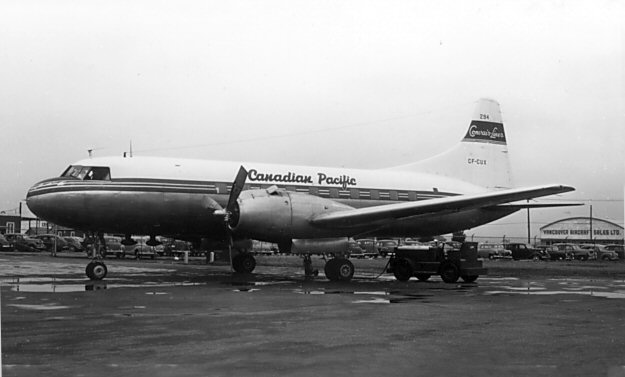 This rendering of a Canadian Pacific CVAC 240 (from the Jennifer Gradidge collection) is somewhat
better than that for its sister ship CF-CUW. Even better, though is the rare color below shot of the
same machine taken by Dave Parent during a refueling stop at Sandspit, BC in 1956. Dave had
flown on the aircraft from Vancouver to Whitehorse. Color shots of CPAL Convairs are rare indeed!
This aircraft was also ex Continental Airlines, having been delivered in 1948 as N90847. The tail
titling has had the 'Continental' replaced with 'Convair Liner' It, too, went to TOA Airways in Japan,
(as JA5131) but has survived, I believe as an exhibit in the Tokyo Amusement Center.