CF-CUO Douglas DC-6B (c/n 43842)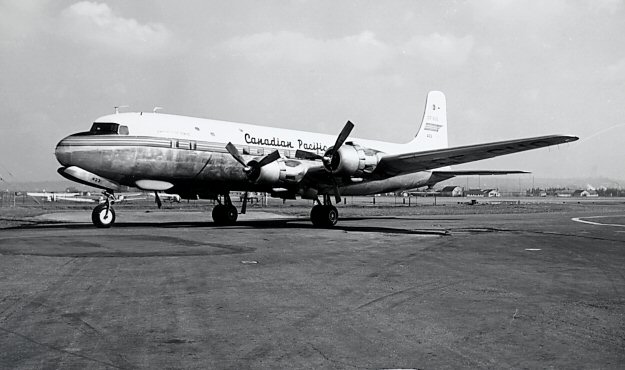 Many have argued (myself among them) that the DC-6B was the very best of the Douglas
4 engine airliners. Bigger and far more luxurious than the DC-6, and 'way more economical
than any of the DC-7 series, this aircraft really was a joy to both fly and fly in. Canadian Pacific
possessed a modest fleet of both these and the airfreighter variant, the DC-6A. They were
used originally on the long trans-Pacific route from Canada to Australia, and later on the South
American route. CF-CUO was named "Empress of Lima" and went into service in 1953.
It was sold to Union Aeromaritime de Transport, (as F-BHMR) another large DC-6B operator
in 1959, when the Britannias and DC-8s were added to CPAL's fleet. Its latter life is far too
complicated to annotate here, but it wound up in 1994 derelict in Villavicencio, Columbia
(its last rego was HK-3847X).