CF-CUN de Havilland D.H.106 Comet 1A (c/n 06104)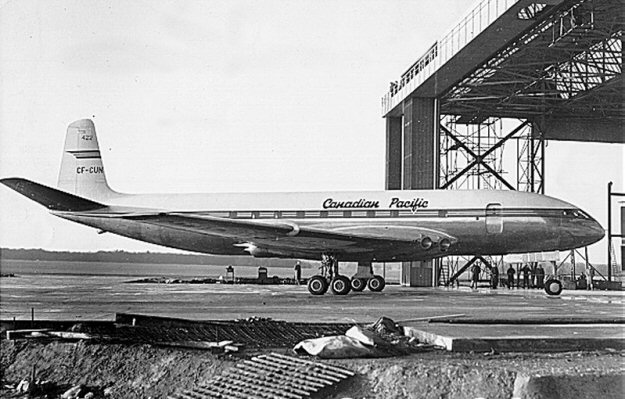 Seen above is the ill fated Comet with which CPAL hoped to initiate trans-Pacific jet services.
The Comet 1A model, 10 of which were built, was an increased fuel variation with the capability
of having water methanol injection. The above photograph was acquired from de Havillands in
1953. For some reason, the publicity images issued by D.H. were never of very good quality.
Anyway, even with the increased range, Canadian Pacific knew they could not fly the Comet on
the long overwater route from Vancouver to Hawaii, so planned on basing the Comets in Sydney
and using them as far as Honolulu, whereupon passengers would be transferred to DC-6Bs to
continue their journey to Canada. CF-CUN, named "Empress of Hawaii" was, then, on its
initial positioning flight going out to Australia. On 3 March 1953 the aircraft did not become
airborne on take off from Karachi Airport and crashed into the dry bed of a river. This constituted
the first passenger jetliner involved in a fatal accident. An excerpt from the Accident Report reads
as follows:
"The accident was caused by the fact that the nose of the aircraft was lifted too high during
the takeoff run, resulting in a partially stalled condition and excessive drag. This did not
permit normal acceleration and prevented the aircraft from becoming airborne within the
prescribed distance. The pilot appears to have realized that the nose was excessively high
and took corrective action, but this was done too late to prevent the aircraft striking an
obstruction immediately beyond the perimeter fence before it became airborne. The pilot,
who had only limited experience in the Comet aircraft, elected to takeoff at night at the
maximum permissible takeoff for the prevailing conditions. The circumstances required
strict adherence to the prescribed takeoff technique, which was not complied with."