CF-CUL Douglas DC-4 (c/n 10384)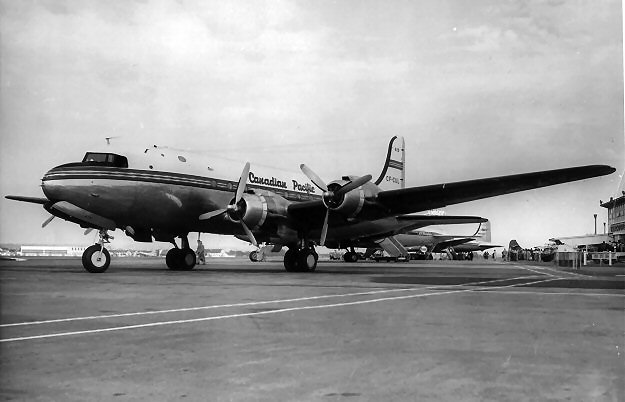 CF-CUL at Vancouver in 1952. It was a former C-54A-15-DC (42-72279) converted by
Douglas for Pan American as N88928 "Clipper Union". CPAL acquired it in 1951. Like
CF-CUK it also went to TALOA (as N9941F) and was leased to Iran Air (EP-ADK).
On 4 August 1961 the DC-4 was flying back to Tehran after a cargo flight to Beirut between
FL130 and FL150 when it became lost. The aircraft is presumed to have flown over Russian
territory and was shot at by an unidentified plane, causing damage to the outer port engine nacelle
and wing structure. (The Ruskys didn't mess about in those days). Anyway, the outer port engine
caught fire, forcing the crew to extinguish it and feather the prop. A little later the number 4 engine
had to be shut down and the prop feathered because of a fuel tank low fuel indication. With only
two engines this situation forced the crew to make an emergency wheels-up landing on the south-
west coast of the Caspian Sea. The cause of the accident was given as faulty navigation.