Junkers Ju 52/1M CF-ARM
(c/n 4006)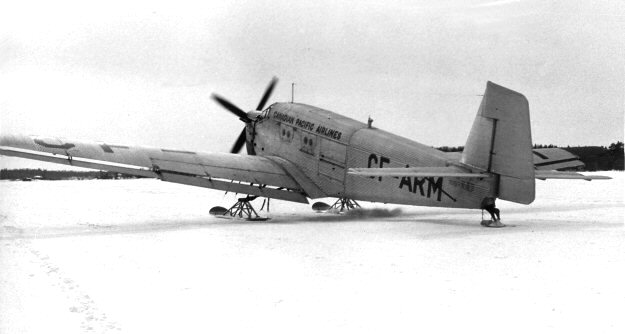 CF-ARM was operated by Canadian Pacific Airlines in the 1930s to primarily air lift mining
equipment to remote locations. The large side doors and a hatch in the roof could accommodate
bulky loads. The aircraft could lift approximately three tons, and had a maximum weight of some
16,000 lbs. It was of all-metal construction, with corrugated aluminium skin. Like most of CPAL's
early aircraft it was equally at home on skis, floats or wheels. This model was the progenitor of its
famous offspring, the 3 engined Ju 52/3Mw, some 5,000 of which were produced. CF-ARM
was in daily use until 1947 when it was scrapped. The above photograph came from the archives
of Canadian Pacific Airlines, and has been in my collection since 1948.