CF-AQB Junkers W.33f (c/n 2586)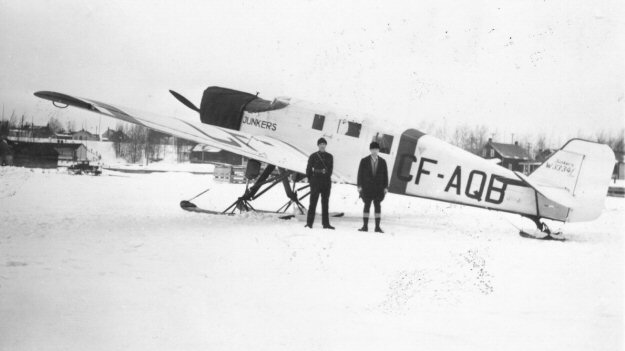 The rare shot above is from the

Myles McLaughlin collection. The

person on the left is Arnold
Eady, Myles' great-uncle, who was at one time the chief of police of Sioux Lookout, Ontario,
where this photograph was probably taken At that time it was operated by Pacific Western
Airlines. First registered in March of 1931, it initially went to Silverton Airways The sho
below, showing- AQB on floats was gleaned from an album of James Connor. Date and venue
unknown. It is possible that craft was with Silverton at the time and that the photo was taken at
Quebec in the early 1930s. The W33 had the engine changed (by, I believe Arthur Fecteau
when he owned it) from the original Junkers L-5 as seen above to a Pratt & Whitney Wasp,
shown in the two images below from the Al Nelson collection. Looked like a really neat
installation too. It was owned by Riverton Airways at that time. Also, at some point in its
career it was upgraded to W.34f standard. This ancient Junkers was withdrawn from use in 1959.