Piper L-4A Grasshopper G-BGJSJ (c/n 8781)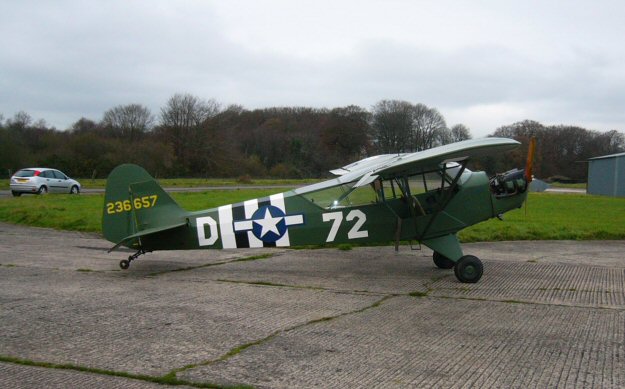 I could not find an image of a US registered Piper L-4A in pure civil garb. Realize that most
Grasshoppers were deployed overseas. There wasn't a great need within the U.S. for battlefield
observation. After the war a number of L-4s remained in Europe (and also South East Asia).
This one, in fact, was ex French Air Force and was civilianized as F-BGXJ before crossing the
Channel. I will, therefore, use this image of Anthony Higgins' beautifully restored L-4A, taken at
Dunkeswell in Devonshire in 2004 as my sample. The once staid Civil Aviation Authority in the
U.K.now permits aircraft to fly around with absolutely no civil identity showing whatever. Anyway,
as can be seen, this aircraft was orignally delivered to the USAAF as 42-36657 in 1942. It is
currently based in Somerset.