North American P-64 XB-KUU (c/n 68-3061)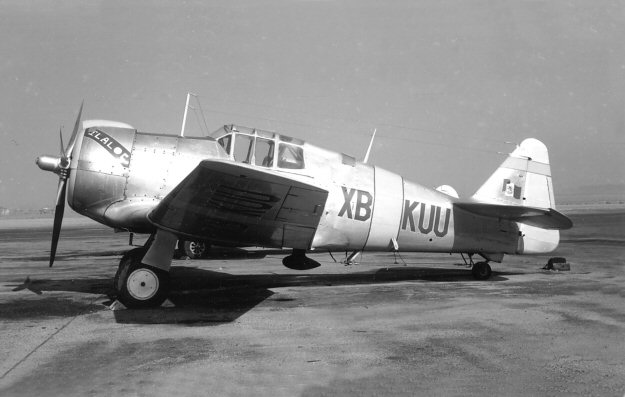 In 1935 North American Aviation developed the NA-16 basic training aircraft which was to be the
progenitor of a whole whole series of both training and fighter types. Most notable, of course, was
the AT-6, but also included such types as Australia's Wirraway. The NA-50A was a single-seat
fighter based on this basic design which actually served for a brief period of time with the USAAF
as the P-64. It was powered by an 870 hp Wright R-1820-77 Cyclone and had a couple of
0.30-inch machine guns. In 1939 the Thai Air Force ordered six (designated the model NA-68)
but delievery was aborted when the Japanese invaded Siam. The machine above is one of the six
and served with the Army Air Corps as 41-19085. My shot shows it at Long Beach in 1959.
It was previously NX37498 but became N68622 when it returned to the USA . It is now part
of the EAA's collection at Oshkosh.